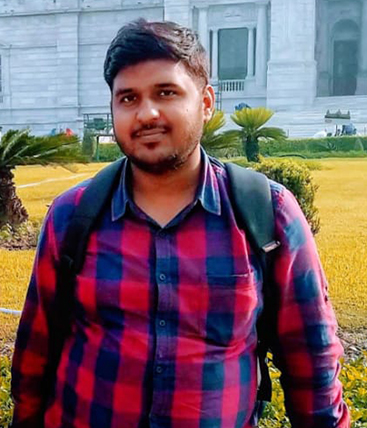 Before
After
THE FAT GUY
Sarvjit Kumar, weighing an astounding 104 kg, was the proverbial "fat guy" in his friend circle. During college, he indulged too much in fast food and overeating in general, which caused him to gain more and more pounds. Left with an obese body, he had started feeling restlessness, tired and unhealthy.
"I was desperate to shed off the extra kilos. I just wanted the right guidance and a reliable weight loss program", said Sarvjit.
TAKING THE PLUNGE
Observing that he was frustrated about his weight, one of his friends suggested that he should buy a treadmill and start working out at home. Sarvjit also felt that working out at home was a convenient and comfortable proposition. He made up his mind and soon purchased a treadmill from OneFitPlus.
GRADUAL BEGINNING
Along with the equipment, he also received the complementary diet and fitness plan and consultation from registered dietitian Sutapa. He strictly dedicated himself to 2 months of healthy diet & exercise. His diet coach made sure to clear all his doubts and motivated him regularly to stay committed to his fitness goals. Sarvjit never backed out himself and remained in constant touch with the dietitian for constant support and guidance. He cut out soda and fast food from his diet and began eating more vegetables, fruits, lean protein. He also downloaded the OneFitPlus App and kept a track of the calories he consumed and his daily step count etc.
ACHIEVING THE RESULTS
While earlier Sarvjit used to follow a sedentary lifestyle with barely any room for physical activity, he became a fitness aficionado after coming in touch with OneFitPlus. He started exercising religiously with utmost sincerity keeping his targets in mind. While initially, he would get tired easily, he stuck to the regime and gained stamina. In one month, he was able to lose 5 kg and by the end of two months, he lost another 4 kg. He had now come down to 95 kg. Sarvjit still follows the diet and exercise regime, with even more dedication.
GOING STRONG
Sarvjit rediscovered himself after losing 9 kg. He regained the confidence he was lacking and felt he looked far more presentable now.
"I want to thank OneFitPlus from the core of my heart for helping me rediscover myself. I will continue to follow the new lifestyle to lose more weight and get healthier", said Sarvjit.