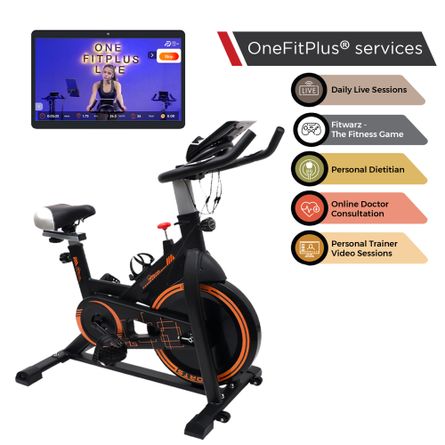 RPM Fitness RPM610 (14lbs Flywheel) with Free Diet Plan,Trainer & Installation Services Spinner Exercise Bike (Black)
Flywheel Weight - 14lbs
Supported Weight - 100 kg
Resistance Type - Direct Contact Resistance
Free Home Installation
1 Year OneFitPlus Membership
₹13999/-
₹25999/-
You Save : ₹12000/-
In Stock
Free delivery: Tuesday, August10
|
Key Features
OneFitPlus.Live transforms your fitness routine through OneFitPlus athletes streaming Live sessions everyday morning and evening from our state-of-the-art Fitness Studios. Connect your smart Tread or Spin Bike and join thousands of users in the OneFitPlus community working out together.
Active post-sales and customer support – Through 650+ offices Free on Call installation and service all across India. After delivery, please contact us on: [1800-572-6402/1800-572-6303] or WhatsApp on (+91-6260741910/ 11) (Working hours: Monday to Saturday from 9 am to 6 pm) to register your installation. (Note: Service Schedule varies location to location).
Free Personal Dietician (3 Month) and one-time Personal Trainer along with Doctor Consultation for all RPM Fitness users.
It connects with the OneFitPlus App available on Android & IOS platforms – It helps you track your daily workout and compiles all your data in one place.
This Spin Bike is equipped with a 14lbs flywheel to offer a great momentum for your exercise, Stepless resistance system to challenge you for varying intensity workouts.
It features an LCD monitor which displays—Time, Speed, Distance, Burned Calories, Heartrate, Odometer and OneFitPlus app connectivity.
Warranty: 6-months warranty against manufacturing defects.
Max user weight - 100 kgs, Note: always choose the Exercise Bike that has user weight capacity at least 20 Kgs more than your current weight since the impact weight increases during Cycling, and its anti-slip pedals are designed with adjustable straps to make your cycling experience safer.
Product Description
Aesthetically designed and practically built to offer a wholesome workout experience, the RPM610 SpinnerExercise Bike is a great choice for fitness enthusiasts. With a Multi-level resistance system and 14lbs flywheel weight, it is a power packed machine to own.The bike has a strong and sturdy frame, with belt drive mechanism for a comfortable and seamless cardio session. It has an adjustable handlebar and secure pedals that provide a smooth and secure operation.Also, this modern fitness bike can be connected to the OneFitPlus App, displaying all your stats in real time. OneFitPlus App allowing you to conveniently monitor all your health parameters such as calories burnt, sleep cycle, BP, Pulse Rate etc.Now is the time to bid goodbye to excuses and embrace a fitter and healthier lifestyle with our smart exercise equipment. We provide free of cost installation in 650+ cities across India and a Personal Dietician (3 Months) and Personal Trainer as well, to help you achieve your health goals.
Specs and services
ONEFITPLUS.LIVE - Welcome to Connected and Interactive Fitness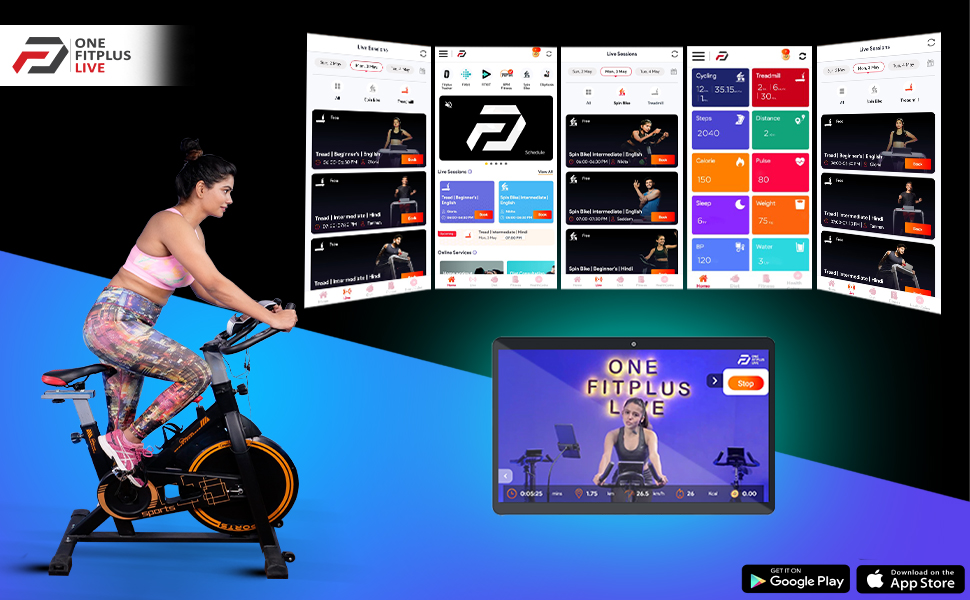 Get Fitness Motivation From Fun And Engaging Live Training Sessions
Bring Home RPM Fitness RPM610 Smart Cardio Equipment.
Make Fitness Fun, Engaging and Interactive
Streaming Fitness Sessions to You LIVE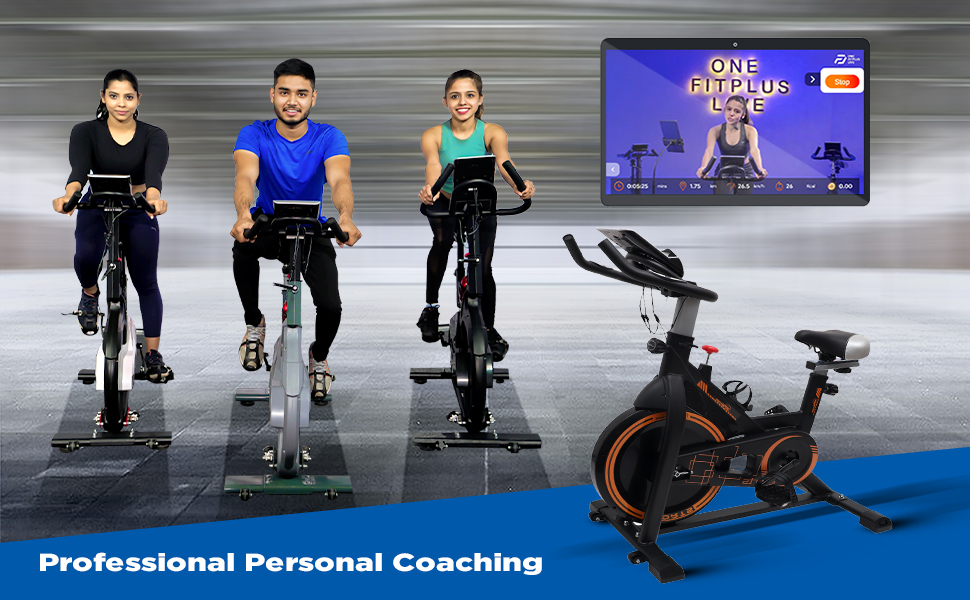 Live Streaming The Best Workouts To Keep You Healthy And Fit
OneFitPlus.Live is premium fitness content streaming LIVE from our studios, designed for time-bound and goal-oriented results.
It provides you an opportunity to 'train with the athletes' while being at home in a connected, interactive and engaging experience.
Catch our trainers live - every morning and evening.
Real Time Workouts that Fit Your Schedule and Routine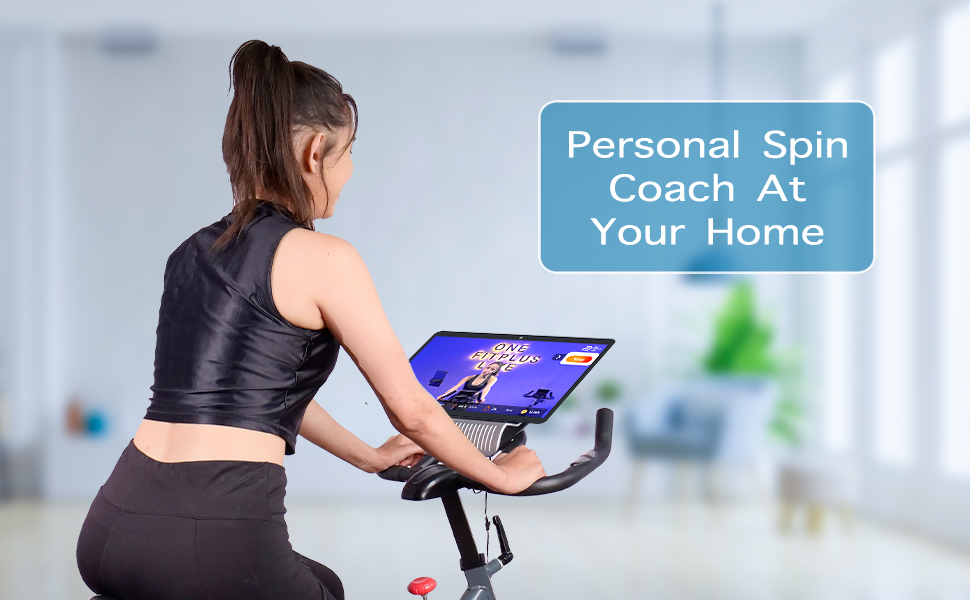 Hand Held Assistance At Every Step Of Your Fitness Journey
Let your body move with the music and enjoy the invigoration of sweating with RPM Fitness RPM610.
Get ready to ride LIVE with our supportive and inspiring OneFitPlus community and motivate each other to climb the leader board.
ONEFITPLUS.LIVE - Exclusive Workout APP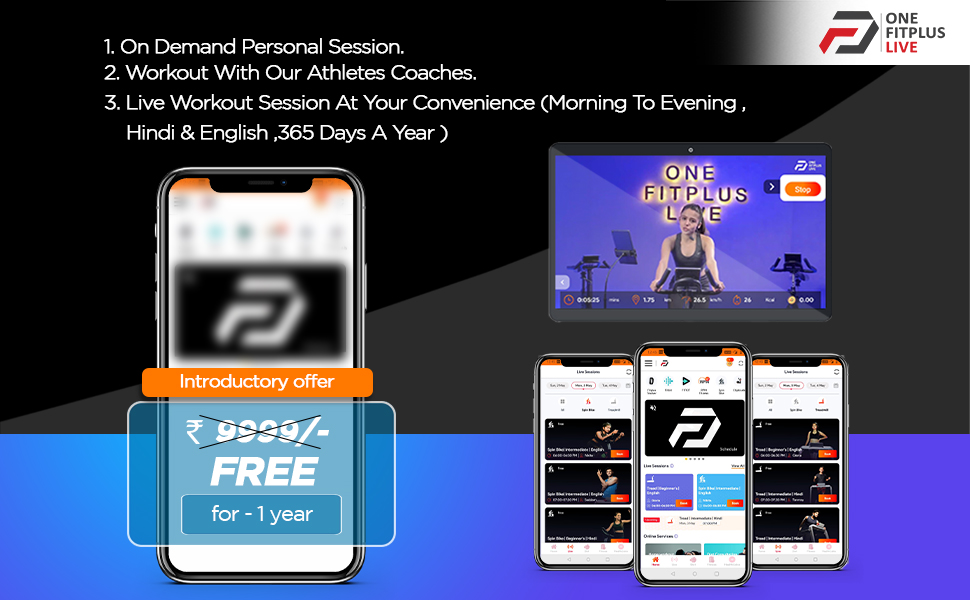 The One Stop App That Meets All Your Fitness Requirements
● No subscription required - This service is complimentary for customers who have bought eligible RPM Fitness treadmills & spin bikes for 1 year.
● Where to watch the live sessions - You can view the schedule of the live sessions on the home page of the OneFitPlus Health App.
Fitwarz – Connected Fitness Game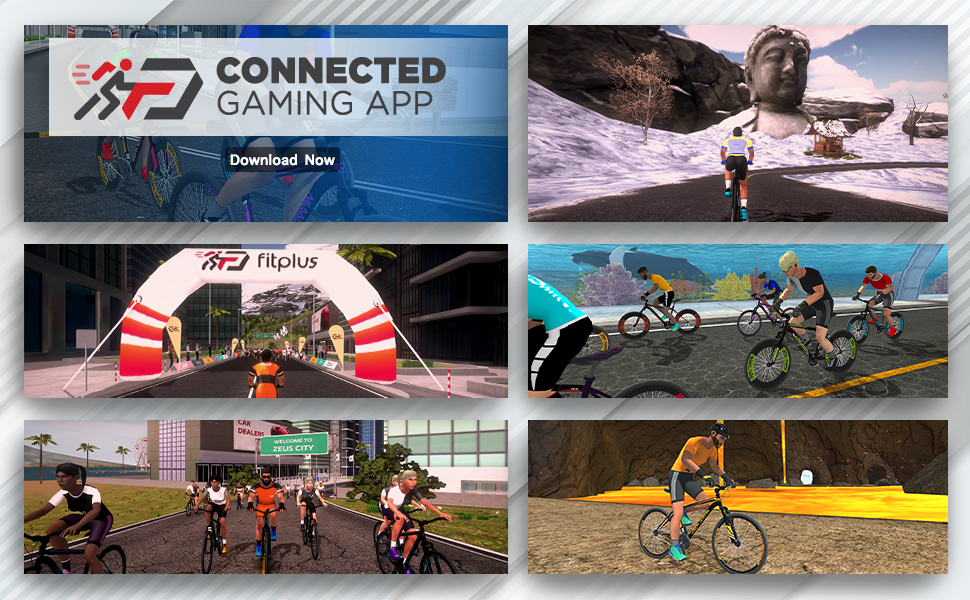 Enjoy A Thrilling Game While You Burn Calories With A Killer Workout
Fitwarz combines the fun of video games with the intensity of serious workouts, helping you achieve your fitness goal. Bike. Pair a Fitwarz-supported Treadmill or Spin Bike to our app, and get started today.