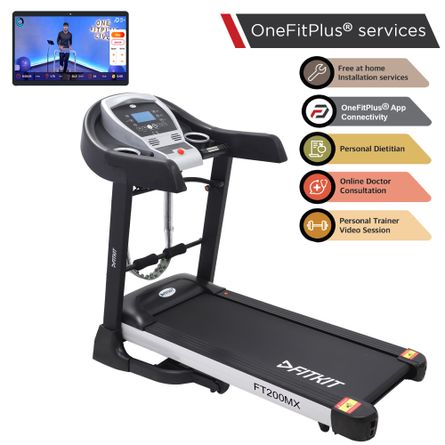 FT200MX (4.5HP Peak Power) Treadmill with Auto Incline & Easy Lubrication with Massager
Powerful and energy efficient Motor
Max Speed - 14Km/Hr
Max User Weight - 110Kgs
Inclination Level 18
Easy Lubrication
Free Home Installation
1 Year OneFitPlus Membership
₹31999/-
₹80000/-
You Save : ₹48001/-
Key Features
Active post-sales and customer support - On Call installation and service all across India. After Delivery, please contact us on: [1800-572-6402/1800-572-6303] (Working hours: Monday to Saturday from 09am to 06pm) to register your installation. (Note: Service Schedule varies location to location).
Belt size: 1220 X 420 mm | Motor type: DC-Motorized | Motor horsepower data: 2.25 HP Continuous (4.5 HP Peak) | Speed: 0.8-14 km/hr | Max Weight support: 110 Kilograms | Inclination type: Auto| Inclination Level: 18
Live workout sessions from OneFitPlus Studio & Earn HealthCoins
One-year free subscription of Fitwarz - An immersive fitness game | Free Diet & Fitness Plan for 3 months along with 1 doctor consultation & personal video training session
Warranty details: 1 Year warranty on Motor and Manufacturing Defect, 3 Year Warranty on Frame, In-box Content: 1 x Treadmill
Product Description
Workout whenever you want and boost your fitness level with the super smart and affordable Fitkit FT200MX Motorized Treadmill. It scores high on performance, comfort, looks and durability. It is equipped with a powerful 2.25 HP (Continuous) and 4.5 HP (Peak) efficient DC Motor, enabling a stimulating workout with a low power consuming. With a max user weight of 110 kg and a speed range of 0.8-14 km/hr, this robust and stable equipment can easily accommodate any user, from beginners to accomplished ones. This treadmill has a 1220 X 420 mm wide spacious, anti-skid running board and can also be folded when not in use. It features an attractive LCD panel to display all the vital parameters such as time, speed, distance, calories and heartrate. This modern treadmill can be connected to the OneFitPlus App, displaying all your stats in real time, allowing you to conveniently monitor all your health parameters such as calories burned, pulse rate etc. We provide free of cost home installation services in 650+ cities across India.
Specs and services
ONEFITPLUS.LIVE - Welcome to Connected and Interactive Fitness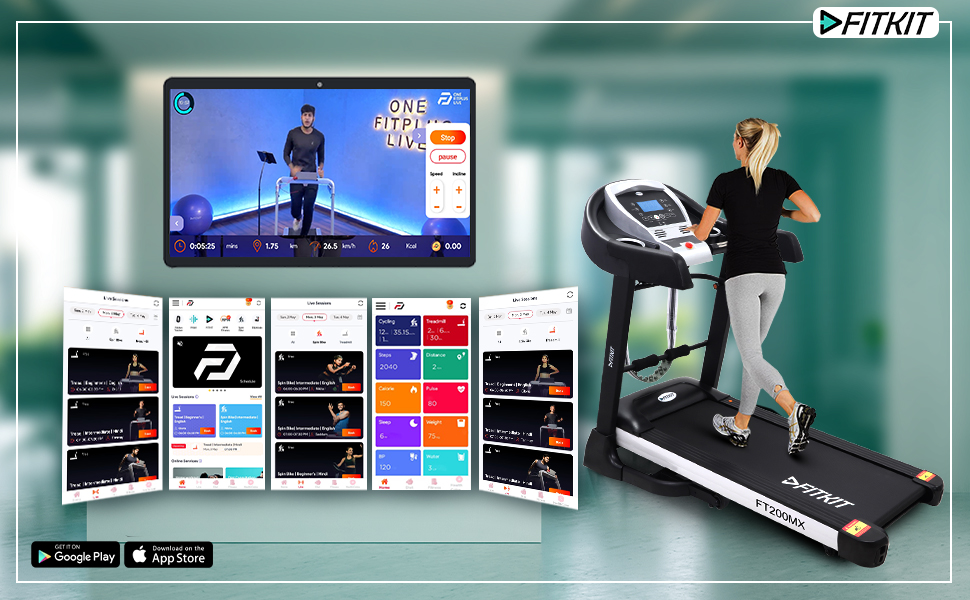 Get Fitness Motivation From Fun And Engaging Live Training Sessions
Bring Home Fitkit FT200MX Smart Cardio Equipment.
Make Fitness Fun, Engaging and Interactive
Streaming Fitness Sessions to You LIVE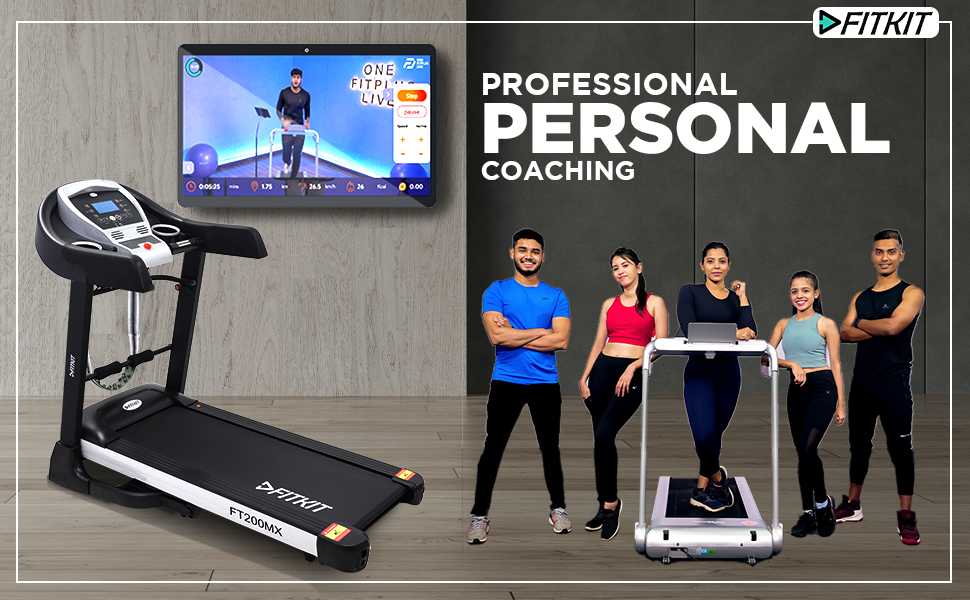 Live Streaming The Best Workouts To Keep You Healthy And Fit
OneFitPlus.Live is premium fitness content streaming LIVE from our studios, designed for time-bound and goal-oriented results.
It provides you an opportunity to 'train with the athletes' while being at home in a connected, interactive and engaging experience.
Catch our trainers live - every morning and evening.
Real Time Workouts that Fit Your Schedule and Routine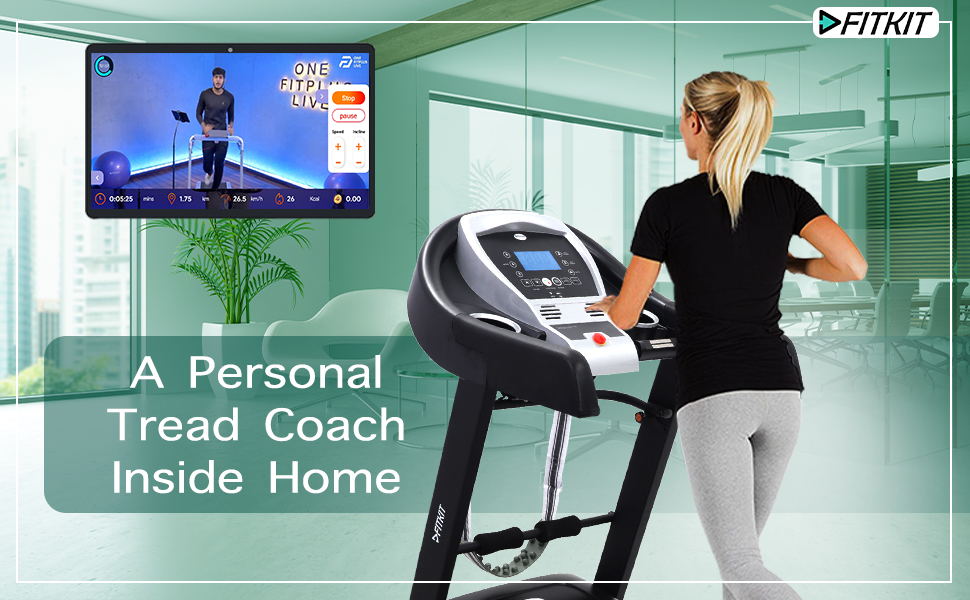 Hand Held Assistance At Every Step Of Your Fitness Journey
Let your body move with the music and enjoy the invigoration of sweating with Fitkit FT200MX.
Get ready to ride LIVE with our supportive and inspiring OneFitPlus community and motivate each other to climb the leader board.
ONEFITPLUS.LIVE - Exclusive Workout APP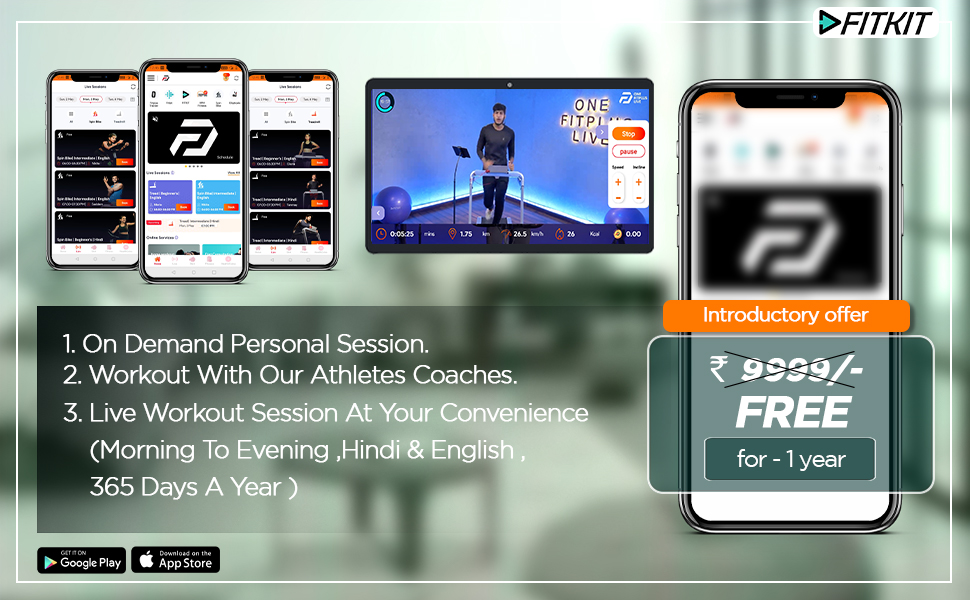 The One Stop App That Meets All Your Fitness Requirements
● No subscription required - This service is complimentary for customers who have bought eligible Fitkit/Fitplus treadmills & spin bikes for 1 year.
● Where to watch the live sessions - You can view the schedule of the live sessions on the home page of the OneFitPlus Health App.
Fitwarz – Connected Fitness Game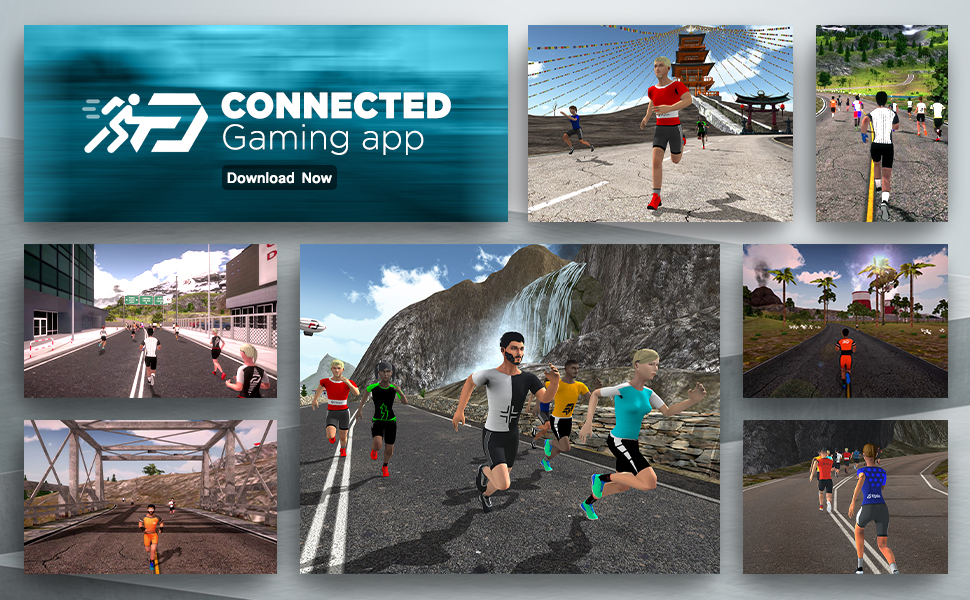 Enjoy A Thrilling Game While You Burn Calories With A Killer Workout
Fitwarz combines the fun of video games with the intensity of serious workouts, helping you achieve your fitness goal. Bike. Pair a Fitwarz-supported Treadmill or Spin Bike to our app, and get started today.